I'm a wife, mother of two and a grandmother of three wonderful children. I was involuntarily retired from Lab. Technology in the mid-90's. This is when I seriously started to quilt. I prefer to hand-quilt my projects, but don't object to machine quilting when time is of the essence. I only wish that there were enough hours in the day to do all that I would like to do.
I'm a Canadian, born in New Brunswick, call Nova Scotia home, and would like to live on Vancouver Island. I went to thirteen schools in twelve years. I was trained as a medical laboratory technologist. My dad was in the Navy. I married a service man, and have lived in almost every province of Canada. I have even lived in West Germany for three years.
Peggy's Cove, Nova Scotia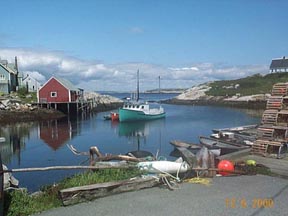 June 2000
I'm retired with a retired husband underfoot. This is nice because I don't like being tied to a schedule. This is also frustrating, I feel guilty quilting if housework needs to be done. I have requested a 48 hour day, but the request was denied by a higher authority.