This is a label that was made for a mini-heart quilt Christmas present.
Jacob' Ladder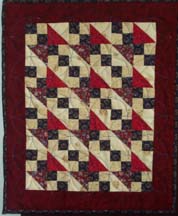 This is part 1 of 2. This is a pattern that I downloaded from the "Connecting Threads" website.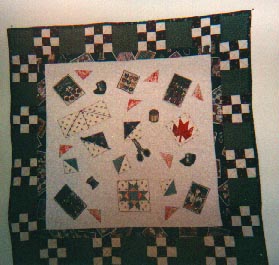 Summer Challenge
Before our quilt group broke for the summer, we were given a half meter of fabric. We then drew names out of the hat. Our challenge was to produce a quilt no larger then 24 inches square. I tried to include some of the techniques that we had learned during the year into my piece.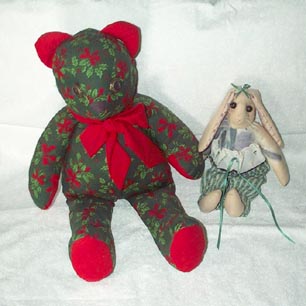 Take a look at these cute stuffed toys. The teddy was a pre-printed pattern, while the rabbit was adopted from a book.
Here is my very own paper ribbon angel. She hangs in my dining room, looking out for me.